Cinema and visual arts festival
El festival
The Panòptic is a festival of film and visual arts with a critical view of the impact of digitalization and new technologies on contemporary societies.
The digital revolution is radically transforming the foundations on which modern societies are structured, at such a speed that we can hardly dedicate the necessary time to understand what we are living and analyze the consequences -negative and positive- that this paradigm shift implies.
Through a hybrid proposal between audiovisual, visual arts and thinking, Panòptic wants to generate reflection, debate and knowledge around the moment of radical transformation that we are living as a society, analyzing the present and future status quo, and also exploring the possible counter-narratives and resistances in it.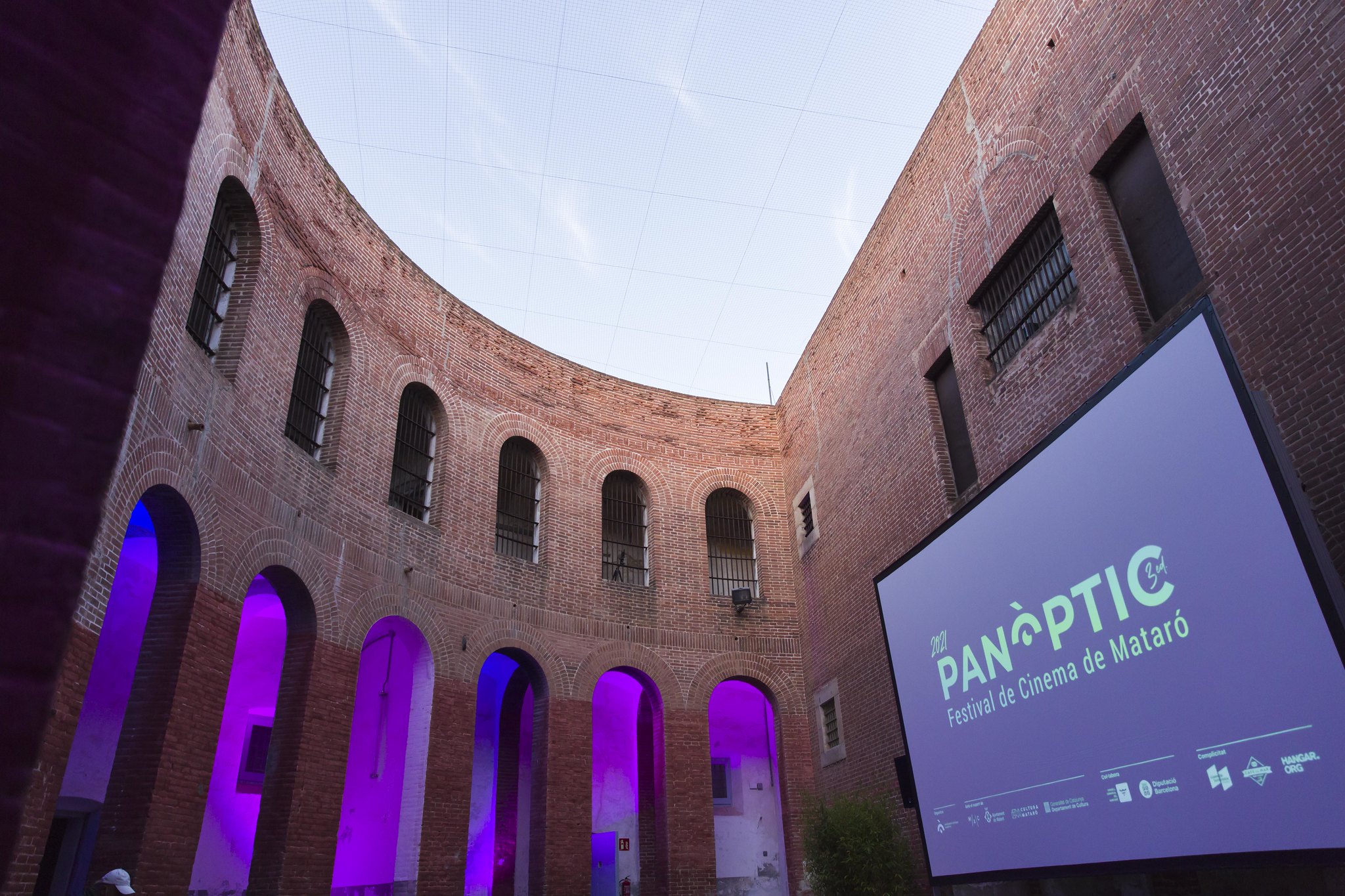 A festival in symbiosis with heritage: The Mataró Prision
The project of the festival, as well as its name, was born linked to a heritage space of the city of Mataró that since the third edition has become the venue of the festival: the Prison of Mataró. The building was the first in Spain to be built following the structure of the panopticon, which Jeremy Bentham applied to architecture.
This inspired the birth of the festival and its theme: the era of digital surveillance.
The building finished in 2021 its reform and in 2022 was officially inaugurated as the headquarters of M|A|C Mataró Contemporary Art, the visual arts branch of the Mataró City Council, with whom the organization of the festival has woven complicities since its first edition in 2019.
Since 2021 the Panòptic is resident project of the M|A|C.
Edicions
1st edition: September 26th, 27th and 28th, 2019 at Café de Mar, Mataró.
2nd edition: September 25th and 26th, 2020 at Café de Mar, Mataró.
3rd edition: From 23 to 26 September 2021 at M|A|C – Prison of Mataró.
4th edition: From 11 to 19 June 2022 at M|A|C – Mataró Prison.
5th edition: From May 11 to May 14, 2023 at M|A|C – Mataró Prison
Organitza
he festival is organized by the Panòptic Cultural Association, a non-profit organization established in January 2019, with headquarters in Mataró, created especially for the management of the festival.
Team: Elisenda Triadó, Marina Grifell, Sandra Martí and Roc Domingo Puig.